MindMeister offers two referral programs:
1) Users of MindMeister's free Basic plan can earn additional free mind maps by inviting friends to MindMeister or by publishing mind maps. You will receive one additional free map for each person who finds out about MindMeister through your invitation or your public mind map and subsequently creates an account. The maximum of free maps a Basic account can store is 13 (including the 3 free maps that are always included in MindMeister's Basic plan).
2) Users of MindMeister's Personal, Pro, and Business plans can earn an affiliate commission by inviting new users to MindMeister or by publishing mind maps. You will earn 20% commission (recurring) for each paid conversion that you've facilitated.
Note: Using your referral link, you can also refer new users to MeisterTask. These referrals count the same as your MindMeister referrals.
How to spread the love by publishing high quality mind maps:
Any MindMeister user can create and publish mind maps, regardless of their subscription plan. When you publish mind maps and share them on your website/blog/social media, they can become popular, rank well in search engines and get tens of thousands of views. If somebody views your mind map and subsequently signs up for a MindMeister account, you as the author of the public map will receive the referral benefits for this new signup.
How to refer people to MindMeister:
Click on your user avatar in the upper right corner of your dashboard. In the menu that opens, select "Spread the Love". This will direct you to the "Invite Friends" page.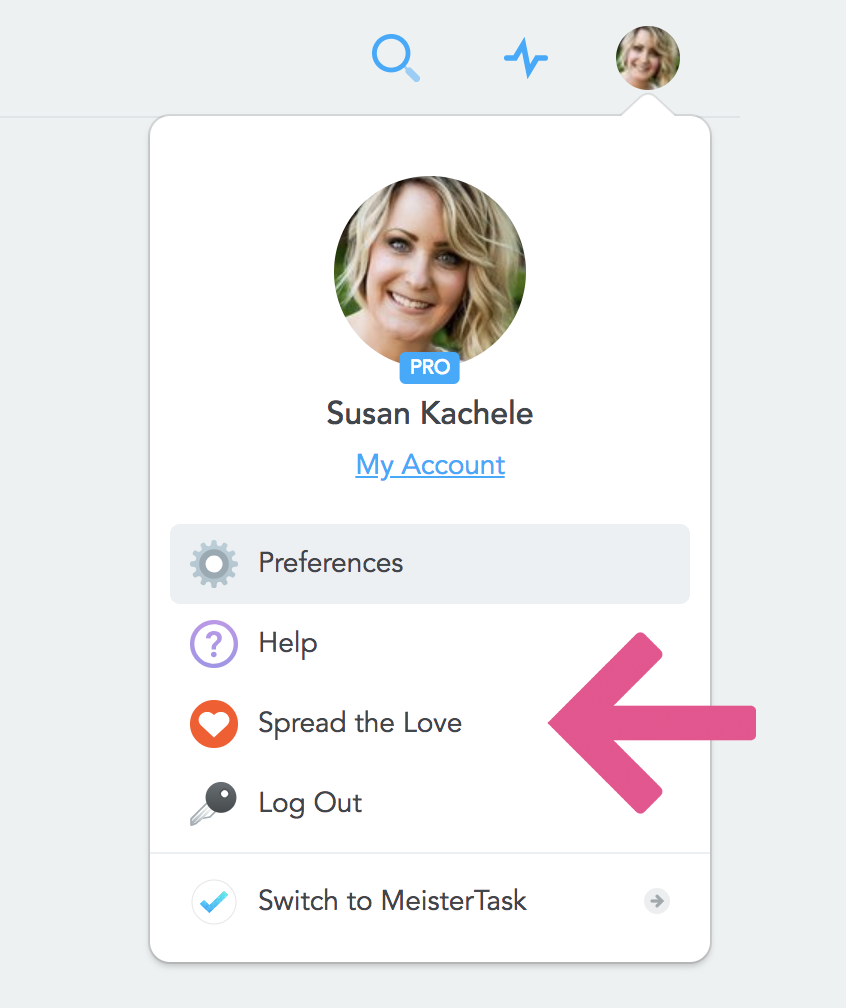 On the "Invite Friends" page, you will see your personal referral link, consisting of MindMeister's URL + your unique referral code. You can copy this link and share it any way you want - in an email, on social media, or on your blog or website. (We also offer a banner wizard that helps you create MindMeister banners for your website.)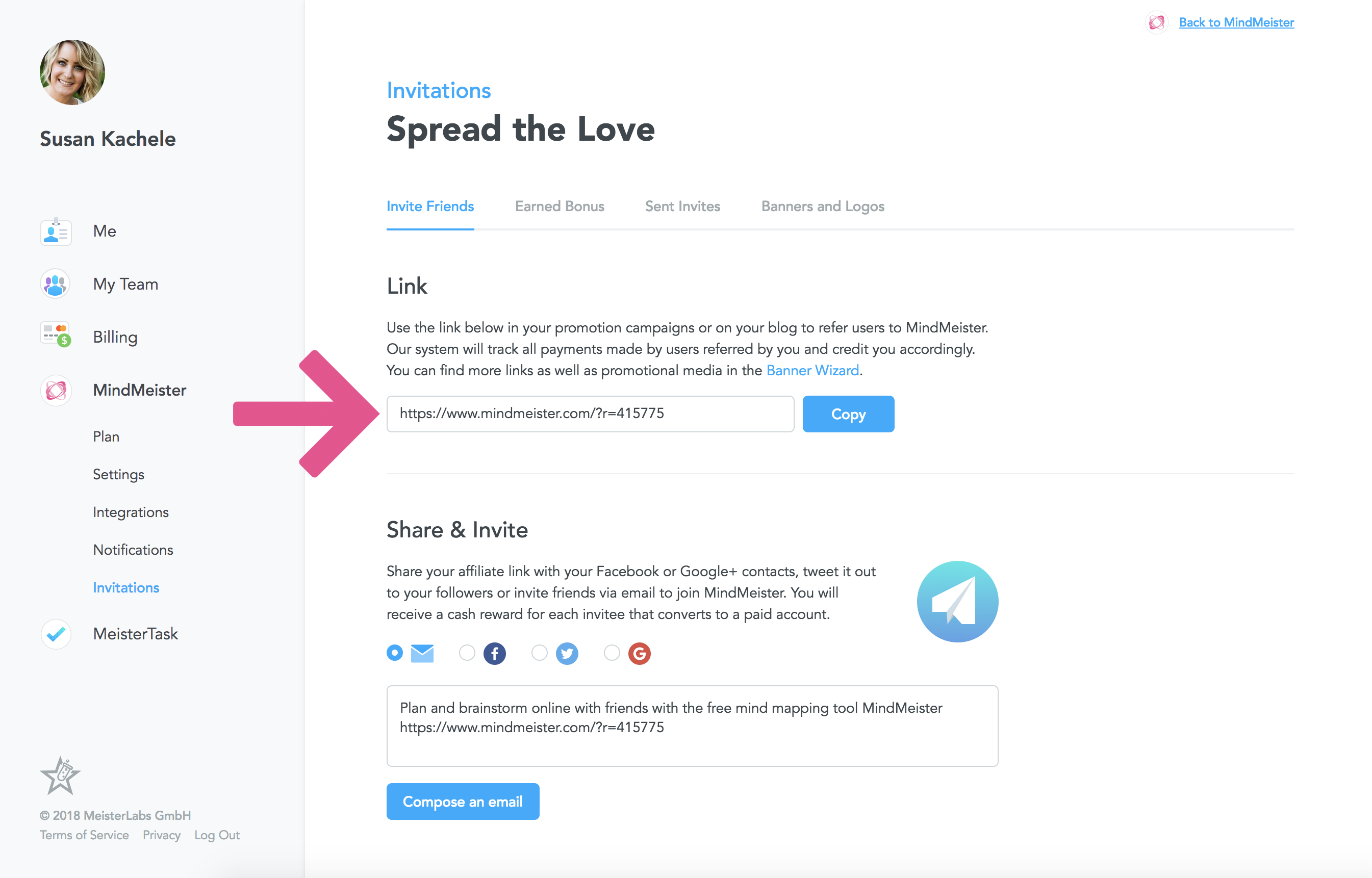 To make things easier, we've added the options to invite friends via email and share your referral link on social media at the bottom of this page.
Whenever somebody clicks on your referral link and subsequently signs up, the referral will be credited to your account. You can track your invites, signups, and the commission you've earned on the "Earned Bonus" page.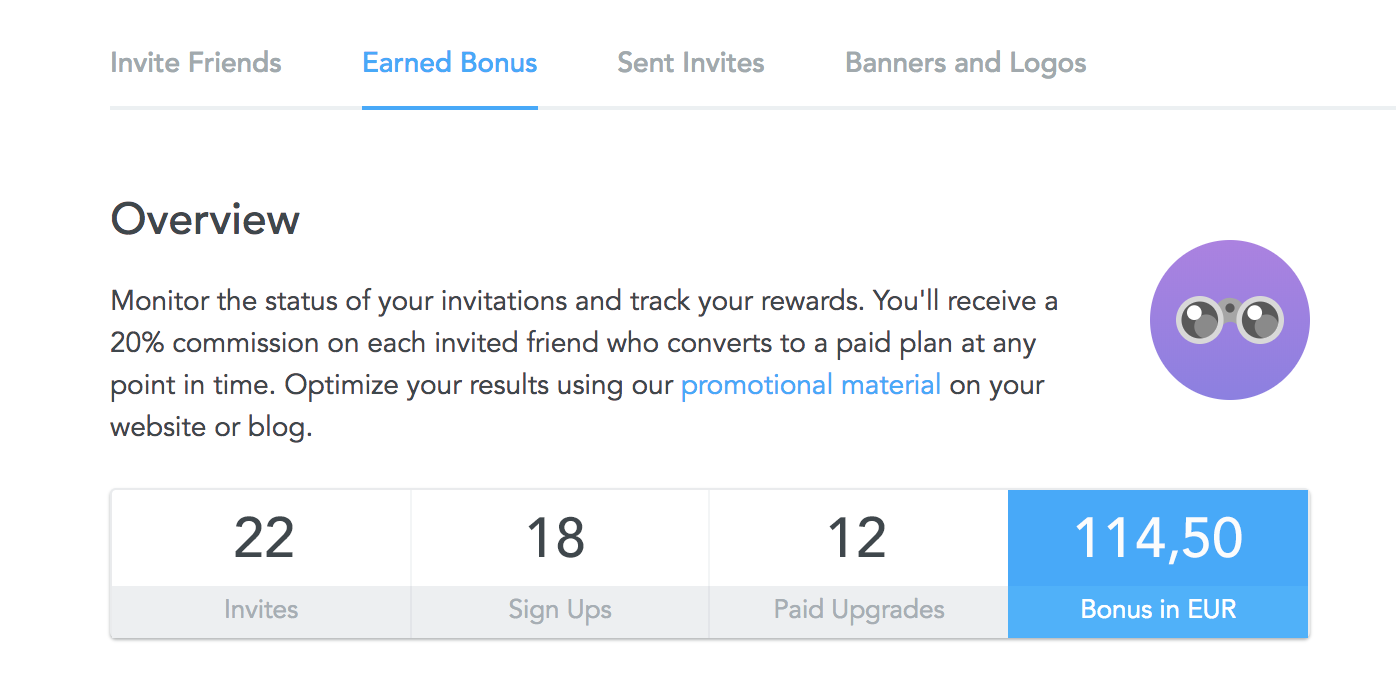 How to get your bonus
As a user of MindMeister's basic plan, you will automatically receive the additional space for a free mind map when one of your referrals signs up.
If you are a paying user, you earn an affiliate commission for each successful conversion. Once you've reached $150 commission you can request to be paid via PayPal. To do this, simply contact our support team, using this form.