To manage your MindMeister subscription, including your plan and payment cycle, visit the "My Account" area and click on "MindMeister" > "Plan" in the navigation bar on the left.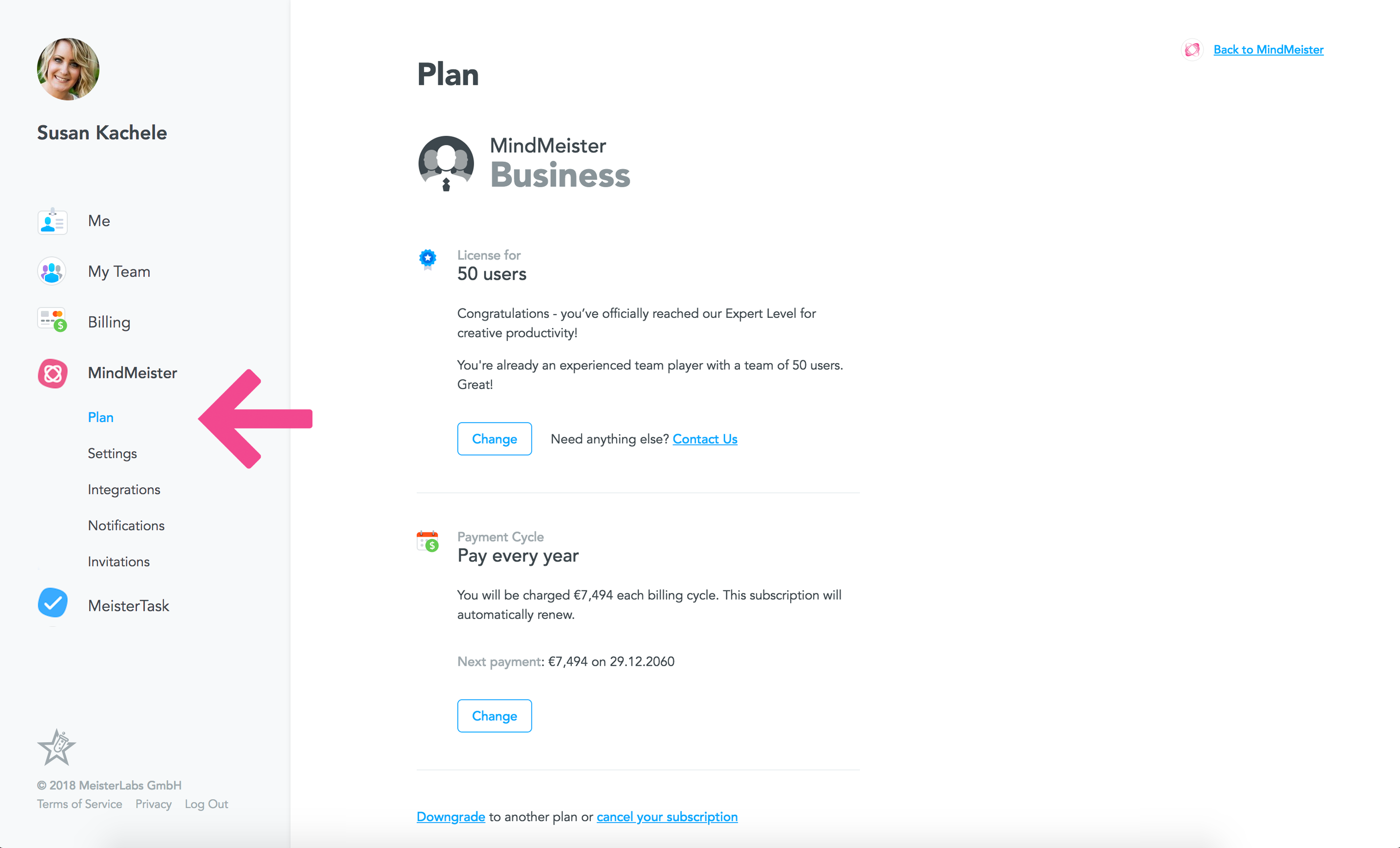 On this page, you will see which plan you are currently on (e.g. MindMeister Basic, Pro, or Business) and how many licenses are included in your subscription.
Note that if you've created a team, each user in your team requires their own license.
You can change the number of licenses as well as the payment cycle by clicking on one of the "Change" buttons. MindMeister currently offers 6-monthly and annual payment cycles.
Upgrade, downgrade or cancel subscription
At the bottom of this page you will also find the options to upgrade or downgrade to another plan, or cancel your paid subscription.
Cancelling your subscription will result in a downgrade to our free Basic plan at the end of your current payment cycle. This means that you will retain access to all your maps and the features of your current plan until the end of your payment cycle. After that, you will only have access to 3 of your mind maps, since MindMeister's free Basic plan only offers space for 3 maps.
However, all of your other maps remain safely stored on our servers, and you can re-upgrade anytime to access them again.
Cancel Your Subscription (iOS and Android)
Subscriptions and trials entered into via the iOS app or the Google Playstore are managed by iTunes and Google Playstore directly, which is why we cannot process those cancellations or refunds.
For more information on how to manage your iOS subscriptions, check out this article: View, Change or Cancel Your Subscriptions
For details on how to manage your Android subscriptions, check out this article: Cancel, pause, or change subscription on Google Play
How to close your account
If you're on MindMeister's free Basic plan, then the link to close your account is displayed at the bottom of the page. If you're on a paid subscription, you will need to cancel your subscription first before you're able to close your account completely.
PLEASE NOTE: Closing your account affects both MindMeister and MeisterTask. Please do not close your account if you want to continue using MeisterTask.