Meister's partner program includes three different types of partners: Affiliate Partners, Reseller Partners, and certified Expert Partners. Partners can track referrals, manage commissions and create coupons in the partner portal.
---
Become an Affiliate Partner
Affiliate Partners can earn a cash commission for each new paying customer they refer to MindMeister. All paying MindMeister users can become an affiliate partner. This means that if you are currently a paying MindMeister user, you already have access to the Affiliate area in the partner portal. 
To learn more about becoming a MindMeister affiliate and earning commission through our referral program, visit our dedicated article here.
---
Become an Expert Partner
MindMeister's Expert Partner program was developed for consultants and trainers who recommend MindMeister to their customers and provide training workshops and product demonstrations. Benefits of being a certified Expert Partner include a free MindMeister Pro account, a personal discount code connected with a referral commission, early access to beta features, support for workshops and marketing campaigns, and much more. 
If you're interested in becoming an Expert Partner, please review our expert partner guide, then use this form to apply for the program.
Once you're officially certified as a MindMeister Expert, your partner manager will grant you access to the Expert Partner area in the partner portal, where you can track your referrals and manage your commission, among other things.
---
Experts: Track Your Referrals and Request a Commission Payout
Once you have been officially certified as an Expert Partner, you will receive access to the expert partner area in the partner portal. From here, you can track your referrals and manage your commission.
To visit the expert partner portal:
Click your user avatar in the top-right corner of the MindMeister interface.
Select Partner from the drop-down menu.




Click Expert Partner (under MindMeister partners) on the left side of the partner portal.


Your personal discount code will appear in the EPC tab (short for Expert Partner Commission). You can give this code to your customers, trainees and website visitors to provide them with a (non-recurring) discount on MindMeister's paid plans. Whenever somebody uses the code to upgrade to a paid account, you will receive a 20% referral commission of the sale, as well as all future payments the customer makes. 
In the EPC tab, you can also track how often your discount code has been used for paid upgrades by customers, as well as the total amount of commission you've earned so far: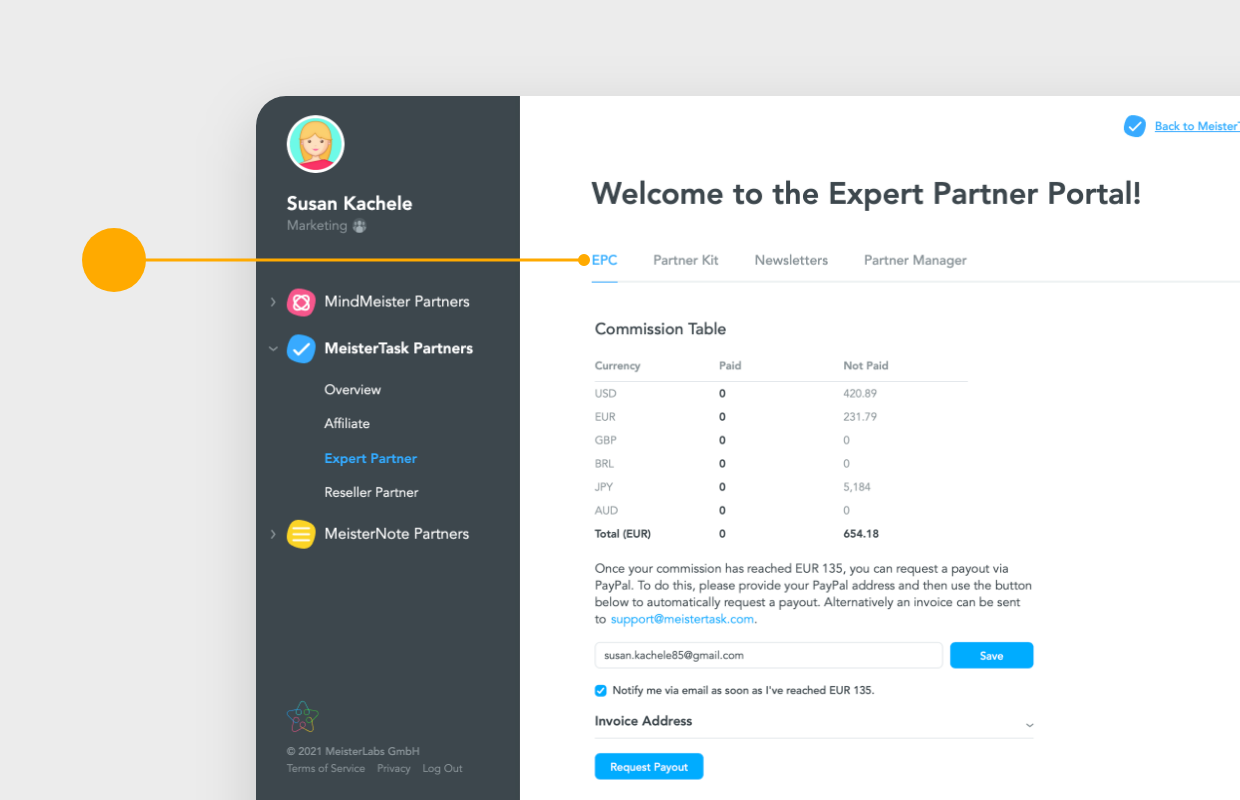 To request a commission payout: 
Once your commission has reached a total of 150$ (or the equivalent of this amount in your currency), you can request to be paid out via your PayPal account.
Navigate to the EPC tab in the expert partner portal (see above).
Enter your PayPal address in the email field below the commission table.
Click Save.
Click Request Payout.
---
Terms and Conditions
Please note that by using any of Meister's partner programs, you agree to the program's terms and conditions.
---
Frequently Asked Questions
My portal shows that a customer has upgraded via my affiliate link / EPC code, but my commission amount still shows zero. What happened?

This can happen if a customer uses a coupon code or receives a free trial to upgrade to a paid plan. In this case, the customer hasn't actually paid anything (yet), and thus no commission has been earned (yet).



My portal only shows that one customer upgraded, but I know that the customer who used my EPC code/clicked on my Affiliate link bought multiple licenses. What happened?

If the customer has purchased multiple licenses for their team at the same time, this is registered as one single upgrade in our system. You will still receive the commission for the entire payment the customer has made.



I requested a payout but so far haven't received anything. When will I receive payment?

When you click on the "Request Payout" button, a ticket is sent to our accounting team, who processes the request and prompts the payment transfer via PayPal. Because this is a manual process, and because our team sometimes receives a high ticket volume, it can take a few days until the money has been transferred. If you haven't received payment within 14 days of sending the request, please contact partnerships@meisterlabs.com.



Can I receive my commission via bank transfer?

Unfortunately, we can only offer payment via PayPal at this time.



I need to keep official records of my commission payments. How can I do this?

Please reach out to partnerships@meisterlabs.com so our team can assist you with this matter.
---
Still Scrolling?
Ask your question in the Meister Community!