Welcome to MindMeister! MindMeister is a web-based mind mapping software that runs in any standard web browser. The mind maps you create are saved automatically and are accessible from anywhere, as long as you're connected to the internet.
---
About Mind Mapping
Mind maps are graphical representations of information. Ideas are organized with the title/main idea always located in the center of the map. Related ideas branch off from the center in all directions, creating a radial structure.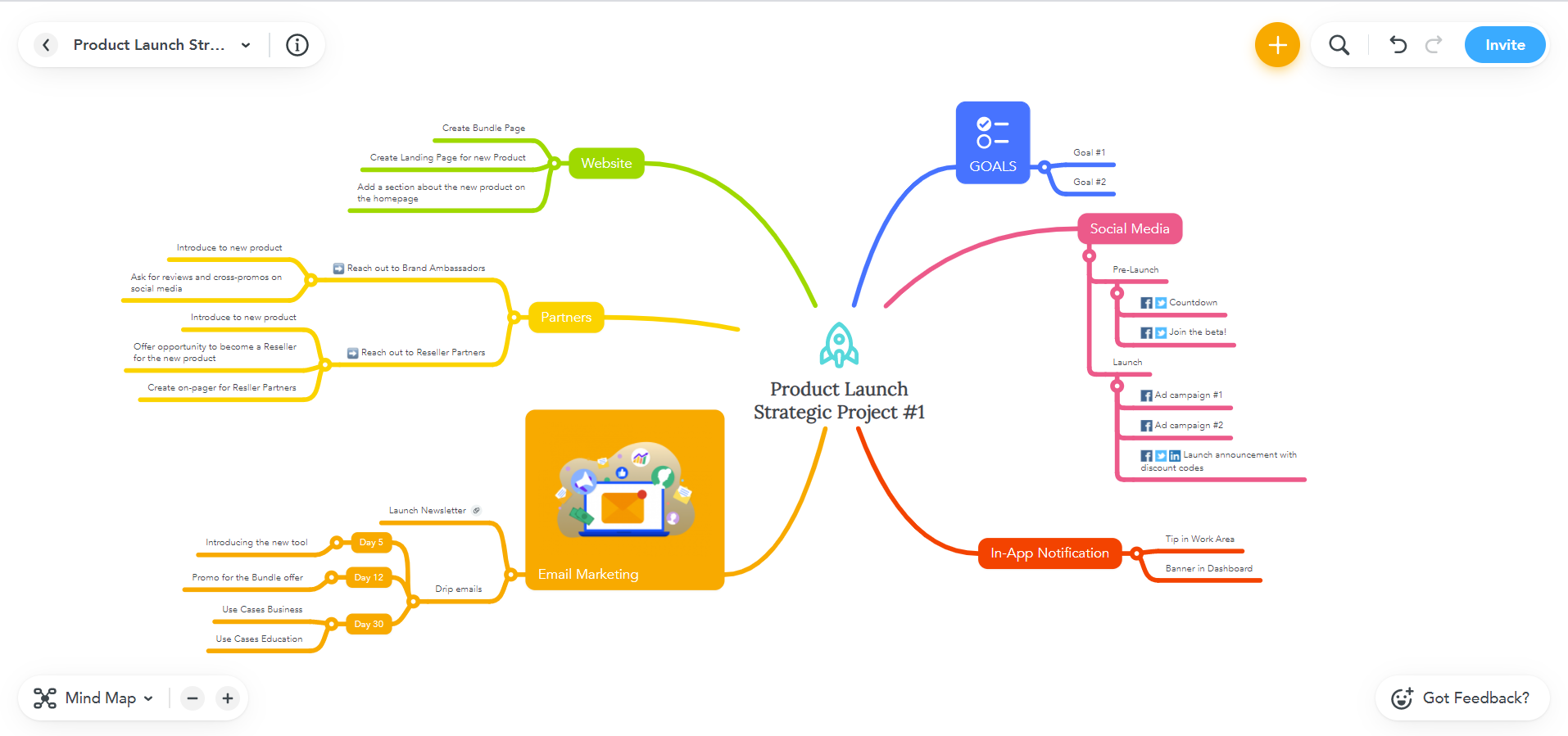 MindMeister uses smart technologies to ensure your mind maps are: 
Attractive.

MindMeister includes expertly-designed themes and extensive customization options, as well as the option to add images and icons to your maps.

Collaborative.

Users are able to create maps together in real time, or easily share maps inside or outside of an organization via sharing links and user groups.

Integrated.

MindMeister integrates seamlessly with a range of popular softwares to allow externally-stored information in your mind maps, or to export your maps to other locations.

For everyone. Mind mapping is an important creativity aid in business and is proven to improve recall and comprehension in education. MindMeister's packages for business and education focus on the features most needed by each group. 


---
How Can I Use MindMeister?
Mind mapping with MindMeister has a wide range of potential applications. Some of the most popular are: 
Brainstorming. Start from a single central topic and develop your ideas using a logical, hierarchical structure that groups topics by subject and allows you to draw connections between ideas. Map solo or with your team, at work or in the classroom.


Project planning. Use mind mapping to define what needs to be done in your project and to delegate action items to team members via MindMeister's integration with MeisterTask.


Meeting management. Use mind maps as an alternative to linear meeting minutes and easily share notes with participants after the discussion ends.


Want to find out more?
You can find more about the potential uses of mind mapping on our homepage.
---
Who can use MindMeister?
MindMeister is for everyone. Creating your first three mind maps with MindMeister Basic is absolutely free. Upgrading to a paid version of MindMeister gives you the opportunity to create and store unlimited maps and unlocks some of the tool's more advanced features.
Want to find out more?
Compare MindMeister's Personal, Pro and Business plans on our pricing page.


Find out more about MindMeister's special discounts for schools and universities here.
---
Still Scrolling?
Ask your question in the Meister Community!